Mother Goose Gravesite?

If there is a Mother Goose gravesite then that must mean she really existed, right?
Too bad sound, logical thinking doesn't always equal the truth. Okay, so here's the scoop…In the Granary Burial Ground of Boston, Massachusetts there lays the gravesites of three generations of the Vergoose (a.k.a. Goose) family.
Mary Balston (d. 1690) marries Isaac Goose (d. 1710) and bears him 10 Goose children. After she died, Isaac re-marries – this time to Elizabeth Foster. Elizabeth (Foster) Goose gives him 5 Goose children, one of which is also named Elizabeth.
Stick with me now, we're almost there.
Elizabeth Goose (the daughter of Isaac) marries Thomas Fleet (d. 1758). Thomas is the publisher of the Boston Evening Post. Now, gossip has it that good old Mr. Fleet was the first to publish Mother Goose stories. And that those very stories were told by his Mother-in-law, Elizabeth (Foster) Goose.
Can the gossip be true? Well, I'll let you make up your own mind. The supposed Mother Goose tales published by Thomas Fleet have never been found. Even so, devoted readers still pay homage to the presumed Gravesite of Mother Goose.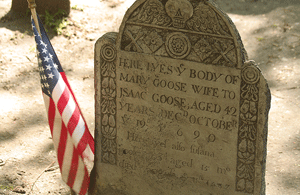 So, if Elizabeth VerGoose is the alleged Mother Goose, why are people visiting the headstone of Mary Goose? Simply put – the believers have no where else to go. There is no record of an Elizabeth (Foster) Vergoose (a.k.a. Goose) buried at Granary Burial Ground.
Alright, so there is still another chance the famed Gravesite of Mother Goose exists and therefore the being herself may have once existed.
At St. Olave's Church in London, England there is a listing in the burial registrar:1586 September 14th, Mother Goose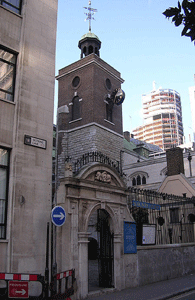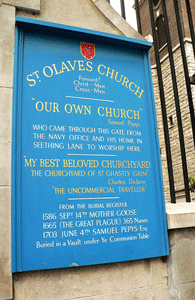 I don't have any background information on this listing. Anyone out there with a history for this Mother Goose gravesite listing, I'd love to learn more. Please contact me.
And if you would like to become informed of new & interesting information I pick-up about Mother Goose & other Authors of children's books feel free to subscribe to My Newsletter below.

Return from Mother Goose Gravesite to Mother Goose

Image Copyright Information